I like to offer a generous amount of time for the first meeting with my clients when commissioning a stone memorial or gravestone. There often needs to be time to talk at length about the deceased loved one; what they were like, thoughts and feelings about their life, words and images that may encapsulate their individuality.
Usually we meet at my workplace so people can be surrounded by the stone I use and we can discuss what type of stone would be suitable for the memorial we intend to create and the location of the grave. I sometimes visit the home of the deceased as this can also be valuable.
It is not necessary for my clients to come with clear-cut ideas of what the memorial should look like as usually this comes out of our talking. Of course some people will be clear about their wishes before we meet. Our discussion will include the type of stone to use, the size and shape of the memorial, the inclusion of carved images, the words for the inscription, the letter-form that would be suitable, and the cost.
After the initial meeting I will provide a drawing that can be discussed and adapted as needed. When we finalise a design I will give a fixed quote for the completed memorial: this will include everything - supply of stone, design, carving, lettering, cemetery fees and the erection of the memorial. Half of the fee will be due when I have purchased the stone - the other half due on completion of all work.
Costs will vary according to the type of stone chosen for the memorial, the number of letters to be carved, and the inclusion of masoned finishes and figurative carving. However as a guide, a simple stone with a brief inscription would start at around £1250. Most of my stones however come in around the £2000 plus mark.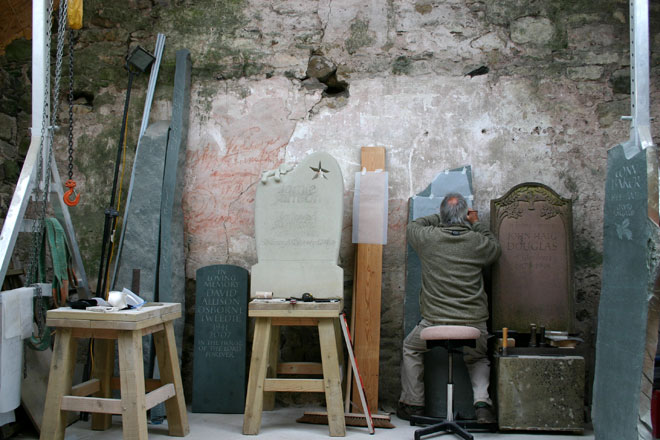 "We are delighted with Duncan's Stone. It is beautiful - everything we hoped it would be and more. It has been good to channel our grief into something creative - you are not only a master craftsman and artist but a pretty good bereavement counsellor too!"
"John's headstone is superb. It speaks to me the moment I turn that corner..... Thank you again for your skills and for your thoughtful understanding."
"Working through the design, and now being able to see such a beautiful stone in place, has been a very comforting and indeed healing process for us. We are extremely grateful to you for this."
"I would like to thank you for your patience and kindness in allowing us to get this stone absolutely right."
"Thank you so much for your beautiful work, your care and kindness. Christopher's stone is all that I had imagined and hoped for - and more."
"It has been good working with you on this job of acknowledgement, recognising and celebrating our son and brother. You've been like a son, brother, father(!) through these days. Thank you."